We all remember the witches from the fairy tales of our youth, or the movies we watched as teenagers. They were generally a pretty frightening bunch of ladies, all seeming to have a score to settle.
Dark and a little bitter might be okay for chocolate but whose got time for the whole bitch-on-a-broomstick thing when there are parties to attend? And what better time to kick up your witchy heels with your like minded ghourl friends than Samhain?
The witching hour is nigh, but have no fear—there's still time to conjure up these simple party tricks and treats for a covenly night of witchy fun—almost as easily as waving your magic wand.
Calling All Witches
Every good party starts with a great invitation. Choose from dozens of Halloween themed layouts like this one at Punchbowl. Customize with the who, what, where, and when then send by email or social media. POOF — all your friends have the deets.
Where The Witches Live
Witches live in scary houses, so be sure to set the theme for your party beginning at the front door. You could carve up a Jack-o-lanter or two and call it good, but—really? This is the time to show off all your practical magic by creating a truly dramatic entrance.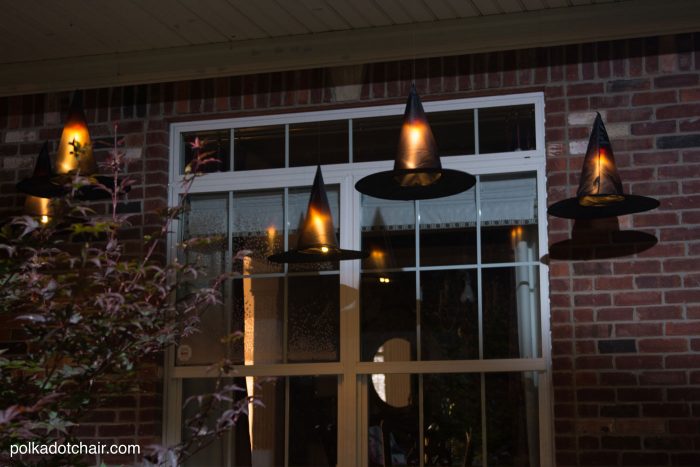 These witch hat luminaries styled by Melissa at Polkadot Chair will impress your guests right off the bat.
And speaking of bats . . .
Don't forget to hang a few of these from the rafters, along with glow in the dark spider webs and lots of creepy plastic spiders.
Finally, add to the sinister ambience by dimming or turning off bright lights. Instead, use plenty of candles (electric versions for safety!) and strings of colorful lights like these, reminiscent of Dios De Le Muerte. Check out the Halloween isle at your local dollar store for all the decorations you'll need in a hurry.
Bubble Bubble Toil and Trouble

Start the cackling good time off by providing themed cocktails like this Poison Apple.  Or keep it simple by featuring a punchbowl as the centerpiece of your buffet spread. Check out Pinterest for more tasty concoctions.
You might consider going strictly with mocktails or an alcohol free punch to accommodate the tea-totaling witches. You can always offer alcohol on the side for those who wish to imbibe. Use these free printables from Suzy Homemaker to label your booze with a grave warning.
Setting the Feast Table
What's a party of witches without a feast? Justina Blakenley at Jungalow shows you step by step how to lay your dark side on the table for all to see. Best of all, she pulls it off without breaking the bank by using thrift and dollar store finds.
Ladies Fingers
Of course you don't have to limit your feast to finger foods, but it doesn't hurt to have some on the menu . . . fingers that is.
These delicious digits are my all time favorite witches' party treat from Martha Stewart. Making them requires some baking experience and the prep is a bit fussy, but they are so worth it. Your ghourl friends won't be able to stop licking their fingers. Find more frighteningly fun partie foods, made with every day ingredients at Pinterest.
Sound Effects
Make sure your witchy guests are feeling your vibe with a chilling play list. No time to curate your favorites? Tune into year-round spooky tunes on Halloween Radio. You can listen live or download for free.
Fun and Games
Where's that Magic 8 Ball you had as a kid when you need it? Why didn't you buy that tarot deck you've been wanting? What self respecting witch worth her salt can't provide a little divination for her guests?
Relax, you don't have to have a Tarot deck to peer into the fortunes of your guests, a plain deck or a roll of the dice will do. You can also try your hand at reading tea leaves, or scrying. Everything you need is right in your kitchen cupboard.
Merry Meet, Merry Part, Merry Meet Again
When it's time to say good bye to your witchy sisters, be sure to send them off with a parting gift. Whether a little favor that sits in the palm of their hand, or a bag full 'O goodies, they'll know you (s)care a lot.
For more Simple Witchery, visit my Patreon Site!
Choose from multiple membership levels starting as low as $3/month.